The Cascadia Dirt Cup found itself in our hometown of Bellingham this weekend for the Chuckanut Enduro. Per usual this time of the year, big holes, blown berms, and moon dust can be found on most all of the trails in the Chucks. "Slow is fast" was the theme for the day, keeping it calm and in control served to be the best strategy for a fast time. Having a hometown race was awesome for having local trail knowledge and less than a 15 minute drive to the trailhead.
Mickey and Brooklyn rode sport class which raced on Two Dollar for stage 1, Upper Ridge for stage 2, and Double Black & Double Down for stage 3.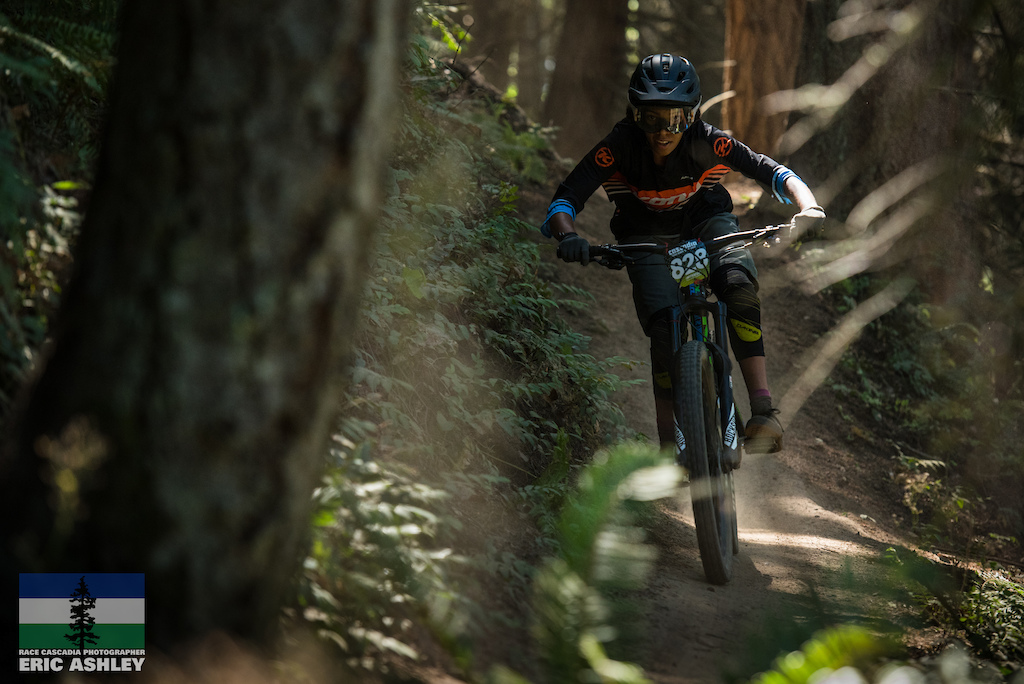 For stage one, they pedaled up the fragrance lake road to Two Dollar trail. Two Dollar is one of the few pedally flow trails in the chuckanuts. It has a few long climbs that are one of the most challenging parts of the trail for racing.
Steph raced in the expert category, Delia and I raced together in pro, and sadly Amanda had to sit this one out with a sprained ankle. Our course consisted of stage 1 on Upper Ridge, stage 2 to Lower Ridge, stage 3 on Raptor Ridge, and stage 4 on Double Black and Double Down.
For the Pro/Expert course, we started climbing up the Fragrance Lake Road to the top of the mountain. It was a fairly long but consistent pedal with only a few steep climbs. We then started stage one on Upper Ridge. This trail descends down the chuckanut ridge and is full of awkward root moves, rock rolls, and one nasty steep but short climb. Being so dusty, this trail was one of the most challenging trails of the day. Delia had a clean run, but I hit the ground twice sliding out in the loose dust losing my glove and water bottle but without any injuries.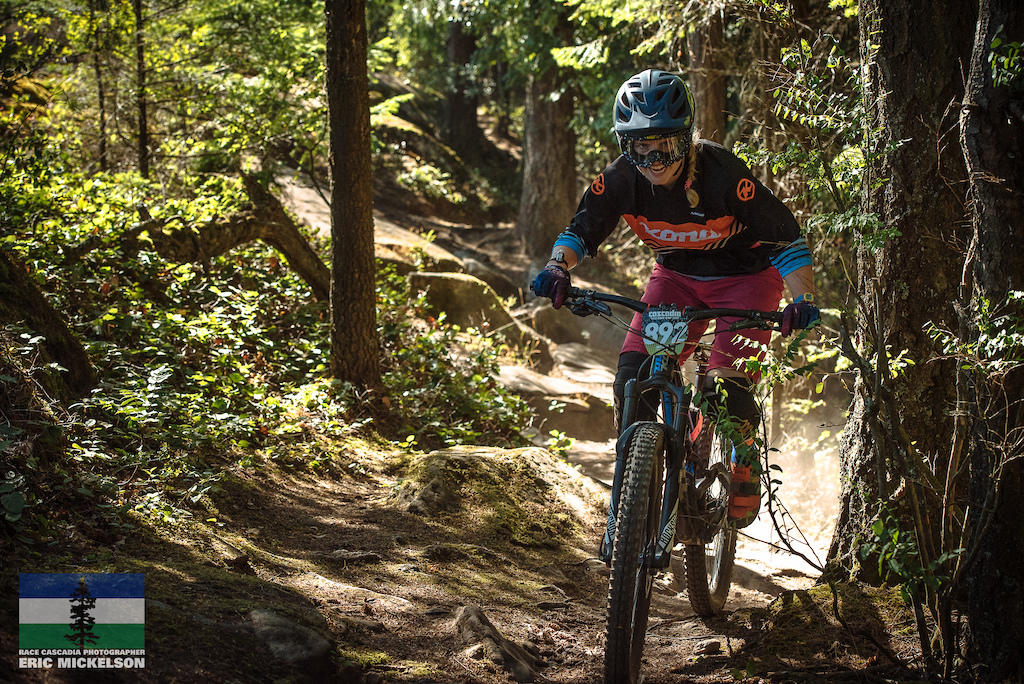 Stage two started at Lower Ridge. This trail is similar to Upper Ridge, but a little steeper and faster. It has some tight fast sections that justify some narrower handlebars. This trail is one of my favorites, but was tough to race in the dry conditions. I went off trail once but had a better run than stage one. Delia managed another clean run and came out with a smile on her face. If you're ever out riding the chucks, this trail is definitely worth checking out!
Stage 3 brought us to Raptor Ridge. This trail was in better shape than the others as it gets ridden less often. It's super pedally and has some tight switchbacks and straight-away sections. I had a much better run and took 3rd for this stage despite it being one the trails I've ridden the least in the chucks.
We hike-a-biked up the Rock Trail back to the top for stage 4. This one I was most excited about as it's one of my favorite trails in town.
It was insanely loose and dusty, but like always insanely fun! I had a clean run up until near the end where I had a washout on a loose corner. Despite so many crashes, I still came away with 4th on this stage and 6th place in the overall.
Delia was stoked to finally have a smooth race without any crashes, slips, or mechanicals! Steph Dawg had a great race and landed 5th for her first expert race. Mick and Brooky B absolutely crushed their home turf and took 2nd and 4th in the sport class. Getting to ride with so many awesome people on home trails was such a good time, and we were all happy to walk away from this race injury-free. Shout out to our local, hometown shredders Bonnie Burke for taking 2nd in Pro, Chelsea Hawkins for taking 3rd in Expert, Matty Hoff for 4th in Hard Tail Open, Donny Alison taking 4th in Pro, and Spencer Paxton for 5th in pro!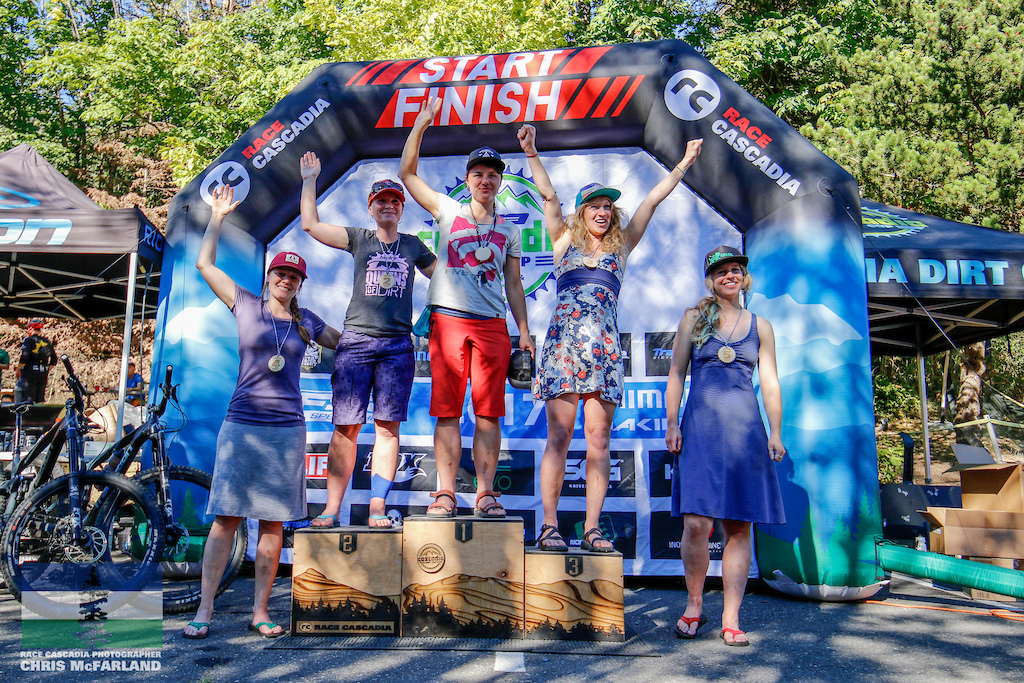 We have one more race left to go for the season down at Ranger Creek on September 16th. Stay tuned to our social media pages and in the bike shop for upcoming events. We have some group rides, clinics, and other events in the works for the fall that you won't want to miss!
With love, Hannah B. and the Supremes